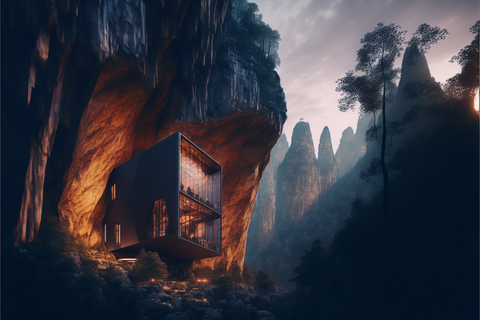 Woodland Bay
Nestled among the towering cliffs and rugged terrain, Woodland Bay stands as a tribute to the natural world around it. Its compact exterior footprint belies the expansive interior space that awaits within. Large windows flood the interior with light, inviting the outside in and creating a seamless connection between the built environment and the natural world. With an emphasis on functionality and versatility, Woodland Bay can be easily adapted to suit a wide range of purposes.
Features
Fully customized environment built on Spatial's Unity creators toolkit.
Outdoor environment with scenic views.
Large interior that allows the space to be used for any purpose.
Functional elevator.
Spacious rooftop with views of the landscape.
Woodland Bay V1
Woodland Bay V1 features a spacious interior that can be tailored to your specific requirements. Our team is presently developing a personalized interior to exhibit how various brands utilize the area. We will revise this page with more information once it becomes available.